Journalist Jean Baptiste Pattier meets our students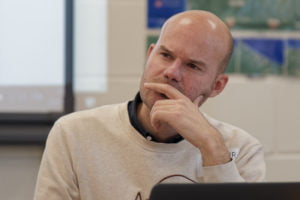 Jean Baptiste Pattier is a journalist at France Télévisons and holds a Master's degree in Contemporary History. For his work, he took part in 2011 in the first international symposium for reflection on the classification of landing sites as UNESCO World Heritage Sites.
Jean Baptiste Pattier and Renée Ouimet were invited as part of a project with the Consulate General of France in Toronto to meet our lycee students in history-geography, geopolitics and political science specialization.
Marcel Ouimet: a reporter at the heart of liberation
Born in 1915 in Montreal, Marcel Ouimet was one of the few war correspondents who witnessed the Second World War directly. He was the only French-speaking journalist to cross the Channel on the night of "D-Day" and land on June 6, 1944 at Juno Beach, on the Normandy coast.
Research work and hundreds of letters from the private correspondence between Marcel Ouimet and his wife have enabled J.B. Pattier to offer us an fascinating and new perspective on this conflict, mixing at the same time emotion, historical precision and new perspectives.
Passed by censor
In 1943, Marcel Ouimet joined the Canadian War Correspondents team. Accredited by the Canadian Department of Defense and then by the Chief of the General Staff of the United States Armed Forces, Eisenhower himself, he was incorporated into the Canadian army with the rank of Captain. He then wore a military uniform identical to the one worn by the other soldiers, except that he had a microphone, a notebook and a pen to replace the infantryman's service weapon.
This privilege implies strict rules….
Do not reveal any secrets
Do not write anything that would demoralize the troops
Do not worry families or civilian populations.
…and a systematic passage through the services of censorship, exercised directly on the front: sometimes censored, always controlled!
Marcel Ouimet's correspondence, although also subject to censorship, raises questions and sometimes even doubts. Jean Baptiste Pattier notes a certain difference in tone between the journalists' letters and reports. "He seems freer in his letters than in his reports," he explains.
When, for example, official reports report mathematical accuracy in allies' bombing, Marcel Ouimet writes in his private letters, "It's terrible what we allies have done. It's terrible these Norman cities ravaged by bombardments."
The testimony of Renée Ouimet, the journalist's daughter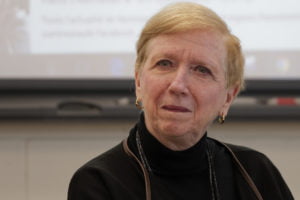 The emotional moments were numerous and intense during these two hours of exchanges, particularly during the screening of an excerpt from a report filmed on Marcel Ouimet in the presence of his daughter Renée.
Ms. Ouimet recalls her father's memories, how she felt when she discovered this correspondence, the loneliness and even the fear that can sometimes be detected in it, but also her father's love for his mother.
"Oh, how I love you, my great darling! And that I miss our moments of complete abandonment, when we knew how to forget all the sadness of this world. After a year, I take with me the memory of these hours, which is still very vivid. And my whole being never ceases to desire you. I entrust all my affection, all my tenderness and all my love to this letter. Be sure that today, tomorrow and the days to come, I will not stop thinking about you." Marcel Ouimet to his wife Jacqueline, written on June 5, 1944, on the eve of the landing."
The Première students, captivated by this testimony, asked many questions to Ms. Ouimet, then the session ended with a warm round of applause.
Jean Baptiste Pattier and Renée Ouimet, to the students and staff of Claudel High School
"We thank you for your welcome and listening. It was a pleasure. We were sensitive to the preparation of yesterday's exchange, it was a beautiful moment because your students were attentive, curious, respectful, friendly, insightful. There is no shortage of positive qualifiers. Renée was particularly touched by the questions, remarks and emotions of the high school students. In all sincerity, we presented the book several times, yesterday morning moved us a lot because it was a real time of exchanges with such a receptive audience."
To go further
Throughout the year and throughout their schooling, the students of the Lycée Claudel (and more generally French high schools abroad), through these encounters, forge a humanist culture open to the world.
The quality of the teachers and teaching, the close links forged with the French Embassy, ensure that each student benefits from a solid academic content and cultural contributions of great richness.
This humanistic culture contributes to the formation of judgment, taste and sensitivity. It opens the mind to the diversity of human situations and invites reflection. By providing common points of reference for understanding, humanist culture helps to form reasoned opinions and prepares each individual for the construction of his or her own culture. Through reading, performances, museum visits, cultural, artistic or physical activities, humanist culture encourages the desire to have a personal cultural life and cultivates an attitude of curiosity.