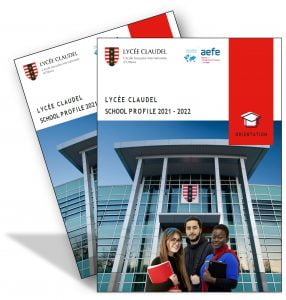 Lycée Claudel orientation service
Continuation of studies
The education provided at Lycée Claudel offers our students a very wide range of possibilities. With a 100% university admission rate and above average French baccalaureate results (100% success), our students are prepared to excel in the most prestigious universities in Canada, France or abroad.
Here is the complete list of universities and programs where students from the 2019 class have been accepted:
CANADA :
Uottawa :
Civil law, international economics
Economics and mathematics
Sales and marketing
Political science and economics
Human Resources Management
International development
International Economics: Conflict and Human Rights Studies
Biomedical sciences
Bac commerce, major in accounting
Biomedical mechanical engineering
Biopharmaceutical Sciences
Physics and electrical engineering
Mechanical engineering
Medicine
Biochemistry
Software engineering
Chemical engineering
Carleton :
Software engineering
Multimedia and design
Neurosciences
Sherbrooke :
Economics and mathematics
Human Resources Management
Medicine
Concordia :
Sales and marketing
Mechanical engineering
McGill :
Cinema and criminology
International development and philosophy
Physical
Engineering and engineering
Mechanical engineering
Trade
FRANCE
Paris Sorbonne : Audiovisuel
Université de médecine de Bordeaux
HEC :
Université De Montréal :
Economics and mathematics
International development
Engineering
Dental medicine
Polytechnique Montréal :
Electrical engineering
Civil engineering
Software engineering
Mechanical engineering
Université de Toronto :
Economics and mathematics
Cinema and psychology
Architecture
Ryerson (Toronto) :
Trade
Cinema and criminology
Waterloo :
Biomedical engineering co-op
-op Mathematics
Sudbury :
Queen's Kington :
Bachelor in Economics
Physical engineering
Mechanical engineering
ÉTRANGER :
Dublin University
Harvard
Stanford
Princeton
To request a report card
Students must apply for university admission before completing the application form. Please note that all report cards or other documents required by the universities will be sent directly by the student or by a family member to the desired institutions within the prescribed deadlines.
With the exception of early admission applications, it is recommended that students complete their university applications online as of November 1, so that their report card package is received before the university application deadlines.
Applications are to be sent to the universities in three steps:
November: the report cards of previous years (i.e. Second and/or First year classes)
February: first semester of senior year
End of June: second semester of Terminale and the results of the baccalaureate