22 November 2019
World French Lycées Week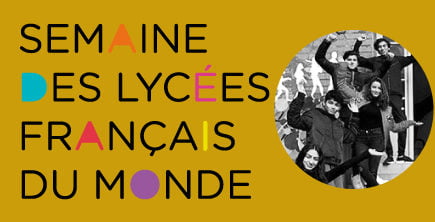 From maternelle to baccalauréat: French education for success
The World French Lycee Week is an AEFE operation that aims to promote the French education system abroad. The third edition is scheduled from November 18 to 22. This awareness week, in which all French Lycees around the world are invited to participate by offering events and educational activities, has an impact both locally and across the network.
From 18 to 22 November 2019, the strengths of French education, the dynamism of the schools, the commitment of the educational teams, the success of their students and former students will be highlighted by a myriad of initiatives related to the theme "From maternelle to baccalaureate, teaching for success".
Schedule of the week
In order to allow all levels to highlight the activities offered in their classes, we will dedicate one day of the week for each level (maternelle, elementary, college, lycee) and end with a special day to promote the success of former students.
Monday, November 18 : Maternelle
Discover how our teachers and educators support our youngest children in learning a second language from maternelle onwards.
Tuesday, November 19: Elementary
The values of inclusion and openness to the world taught in the citizen pathway will be highlighted by underscoring the work of mediators.
Wednesday, November 20: College
Learn more about the personalized support available to students to help them develop to their full potential.
Thursday, November 21: Lycée
Discover our many options for secondary school students to better orient themselves, discover new cultures and open their horizons to the world.
Friday, November 22nd: Former students
This special day will be dedicated to former students of Lycée Claudel so that they can share their academic and professional background while promoting a period of exchange with high school students.
Keep an eye on our social media to follow this week's progress as it promises to be a colourful one!