The Lycée Claudel Library
The library is a space that welcomes students from the Petites Section (PS) of Maternelle to Terminale.
Our two librarians are present to help students in their choice of reading material, to advise them and to set up exhibitions and competitions throughout the year.
Back to school 2023
Reading brings a lot to children, whether it's stimulating their imagination, enriching their vocabulary or developing their curiosity! And back-to-school is the right time to subscribe!
Like every year, discover our two partners and the preferential rates they have selected for the students of Lycée Claudel:
——————————-
Bayard
Discover the catalog of magazines offered for the year 2023-2024: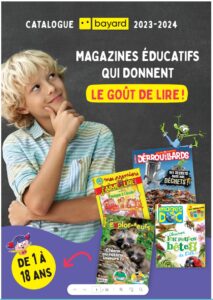 Subscriptions are taken on the internet and arrive directly at home.
Paper brochures are also available in the library and at the high school front desk.
Your contact person:
Valérie Bertand
Bayard and Milan Magazine Advisor for Lycée Claudel
42 Overbank Crescent, Toronto, Ontario, M3A 1W2
Tel 1 800 313-3020 #8258 toll free | valerie.bertrand@bayardcanada.com
——————————-
L'école des loisirs / L'école des max
L'école des Loisirs is the most important French publisher, dedicated to Literature for Children and Youth. Through the MAX book club every year, children all over the world may receive a book every month.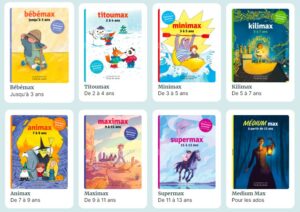 The MAX subscription offers 8 books a year from November to June, for different levels. Real creation books around which your child can build his very own personal library.
What's the Max Book Club?
The pleasure to learn a second language more easily because the path is fun and truly touches them.
A family commitment because Reading is so important in life.
A way to discover the world beyond borders and increase the desire of Reading and Learning.
A means to develop Imagination, Empathy, to share Emotions …
How to subscribe?
Thanks to the school, you benefit from the most advantageous rate! If you received a brochure, please fill the GROUP form (discount rate) at the end of the brochure and give it back to your child's teacher or at the reception with your payment (check in order to l'école des loisirs) or proof of payment online made on regroupmax.com
The books will arrive at school each month and will be given to your child to bring back home.
You can also choose an INDIVIDUAL subscription. You will directly receive the books at home but the school will not get the benefit of your subscription. Subscribe online at indivmax.com and add my facilitator number 1264 for a better following.
 A complete English presentation is available at : https://www.ecoledesmax.com/en-version.php
 TO HAVE ACCESS TO ACTIVITIES, GAMES, AUDIO AND VIDEO, go to: ecoledesloisirsalamaison.fr