The Agency for French Education Abroad
The Agency for French Education Abroad (AEFE, Agence pour l'enseignement français à l'étranger) is a global educational network made up of over 500 institutions in 137 different countries. The AEFE's vision is to offer quality education modelled after the French school system, from kindergarten through the end of high school. The AEFE welcomes children from all different walks of life in the spirit of openness and cultural exchange, all while maintaining a focus on French language and culture.

Schools belonging to the AEFE network boast a baccalaureate success rate of 100%, which allows their students to access the best universities all around the world.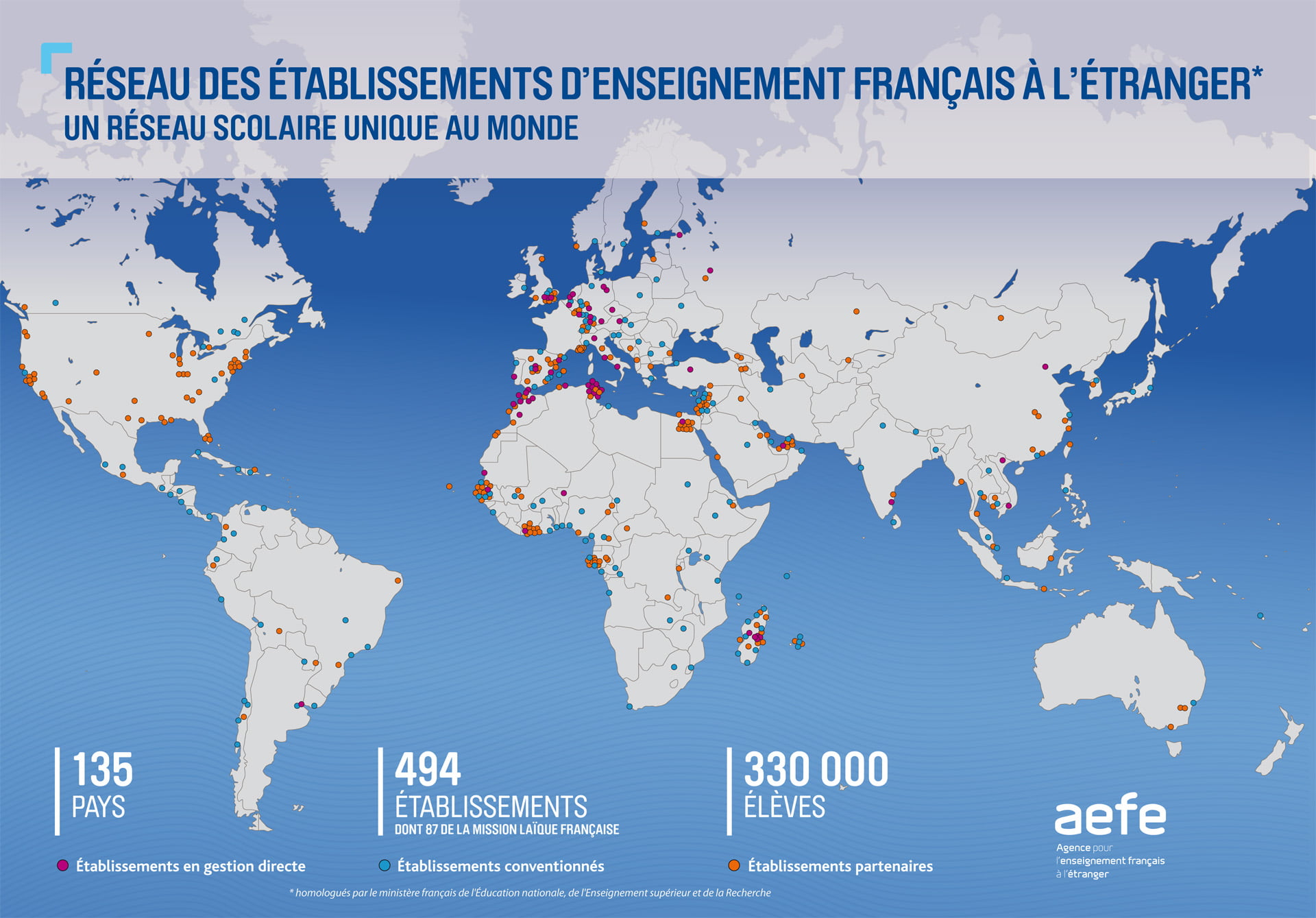 A Major Advantage
Lycée Claudel's affiliation with the AEFE grants us an outstanding level of flexibility. Our students have the opportunity to receive a dynamic French-language education based on the French school system, and are able to transition seamlessly between schools all around the world.
To learn more about AEFE, click here. (French version only)
Exceptional projects and exchanges

The AEFE advantage also grants our students opportunities to become part of an international community and live out their dreams.

ADN AEFE
Schools affiliated with the AEFE network have created an educational exchange program known as the ADN-AEFE Program, which encourages cultural exchange by allowing first-year high school students to study abroad for one semester at an AEFE-affiliated institution in another country. The Grassroots Ambassadors Program perfectly represents the AEFE's values of openness and excellence. Students are invited to participate in multilingual speech tournaments centred on the linguistic and cultural mediation of various issues of global concern.
Science Olympics
In the same spirit of international collaboration and pushing oneself to new heights, the AEFE network has created the Science Olympics program, which aims to give students a taste for science and research by allowing them to participate in innovative scientific projects. The Science Olympics covers four disciplines: chemistry, mathematics, geosciences, and biology.

International French School Orchestra
The AEFE also encourages students with more artistic leanings to pursue their passions. The International French High School Orchestra (Orchestre des lycées français du monde) allows musically-inclined students from different institutions within the AEFE network to connect with one another. The project is supported by Radio France and spearheaded by Adriana Tanus, an orchestra conductor and music teacher at the Lycée français de Madrid.